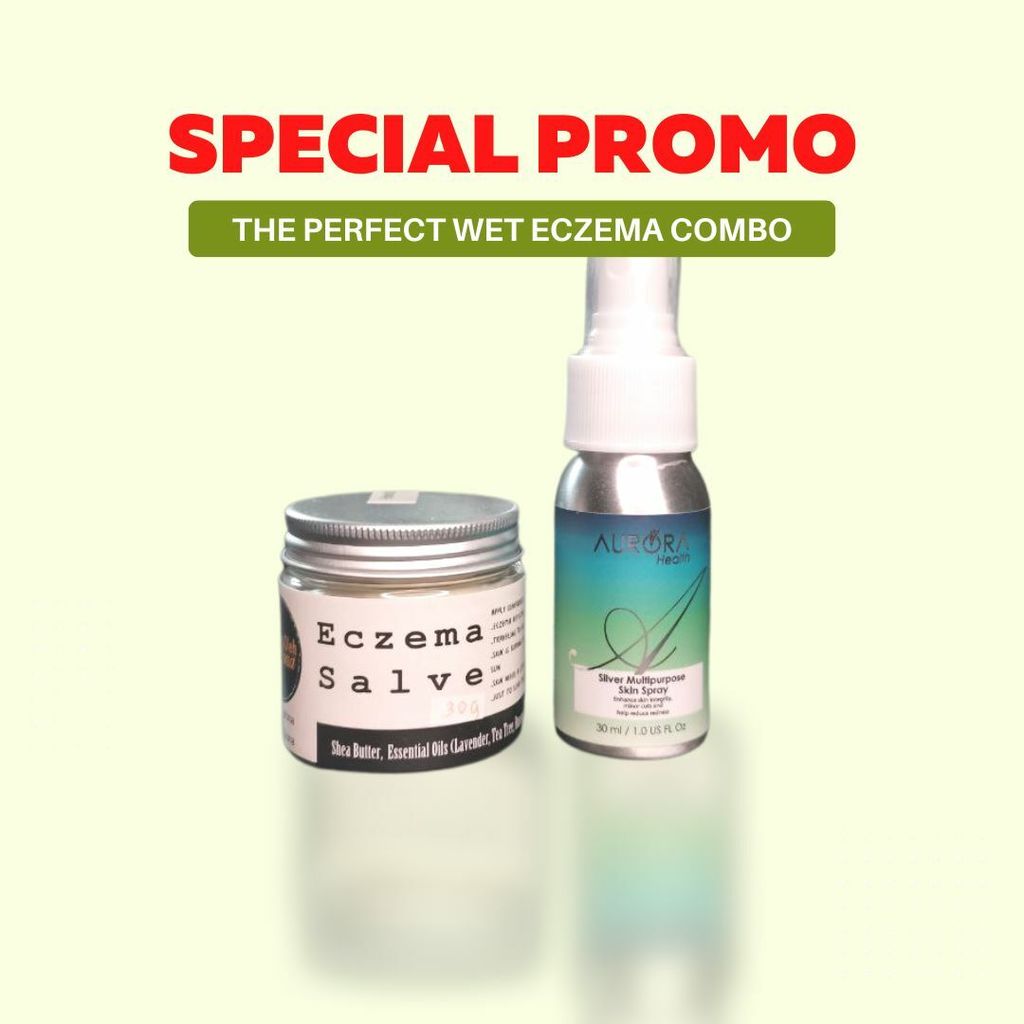 𝐄𝐜𝐳𝐞𝐦𝐚 𝐒𝐚𝐥𝐯𝐞 𝟑𝟎𝐠 plus 𝐀𝐮𝐫𝐨𝐫𝐚 𝐇𝐞𝐚𝐥𝐭𝐡 𝐒𝐢𝐥𝐯𝐞𝐫 𝐒𝐤𝐢𝐧 𝐒𝐩𝐫𝐚𝐲 𝟑𝟎𝐦𝐥
The PERFECT combo for wet Eczema.
WHAT IT IS?
ECZEMA SALVE is 100% handmade and natural cream to protect and relieve skin irritation due to rashes and eczema. Deeply hydrates skin and helps to protect sensitive skin. Free from hydrocortisone, paraben, and synthetic ingredients.
AURORA HEALTH SILVER SKIN SPRAY is a safe antimicrobial and immune support system that contains 99.99% pure nano-silver. It contains Artemisia Annua extract to protect and relieve skin conditions. This skin spray enhances skin integrity for cuts and wounds including diabetic wound, cuts and abrasions, open wound, blisters and mouth ulcers too.
HOW TO

Spray Aurora Healthy Silver Skin Spray 2-3 times a day onto wet Eczema and let it dry. No need to rinse. Once the broken skin has improved (approximately 2-3 days depending on severity), apply Eczema Salve onto the skin at least twice daily or as needed to soothe dry, and distressed skin concentrating on affected areas.